Save The Date Items

Baby Gift Ideas

Disney Shop

Have A New iPhone ?
Create Your Own Case Or Choose Ready Made

2019 Wall Calendars
Sunday, September 09, 2018 @ 12:56:03 EDT by

FNolan

(172 reads)
2019 Wall Calendars
A wide assortment of calendars for all themes
Below is a small selection of calendars
Clicking an image or title will open a new window/tab to the item on Zazzle.com for more info and purchase.
Many you can customize to suit your preferences !
You can even add your own personal image or text !
Read More...
Zippo Lighters For Gift Giving
Sunday, December 25, 2016 @ 10:14:31 EST by

FNolan

(286 reads)
One of the most recognized brands in the world, Zippo was founded in the fall of 1932 by George G. Blaisdell in Bradford, Pennsylvania, where it has manufactured over 550 million windproof lighters. With the exception of improvements to the flint wheel and modifications in case finishes, the product remains unchanged and is backed by the company's famous lifetime guarantee – 'It works, or we fix it free'.
Being American made with a lifetime guarantee you can't go wrong.

Many are customizable to add your own text or images.
Below is just a small sampling of what's available.
Click the above banner to see thousands more.
Zazzle Now Has Zippo Lighters
Saturday, October 22, 2016 @ 12:24:25 EDT by

FNolan

(238 reads)
Great for gift giving and for the Zippo® enthusiast
A symbol of class and style for over 84 years, Zippo® pocket lighters are now a part of our family.
| | | |
| --- | --- | --- |
| | Introducing Zippo® Lighters | |
All Over Print Leggings
Thursday, October 13, 2016 @ 17:03:44 EDT by

FNolan

(292 reads)
Create custom leggings for loungewear or going out

Be comfortable and cozy with custom all-over-print leggings! Add your own photos and text or browse thousands of wonderful designs.
Uncommon iPhone 7 cases
Saturday, September 10, 2016 @ 09:39:03 EDT by

GODFNolan

(501 reads)
Zazzle's Newest Arrival
Just In Time For The iPhone 7 Release
Here is a small selection of what's available from Uncommon Case
Visit HERE To See A Huge Selection Of Cases, Some Customizable
Read More...
BoldFace Backpacks Brand
Saturday, September 03, 2016 @ 10:53:53 EDT by

GODFNolan

(266 reads)
Newest Arrival - BoldFace Backpacks
Mix and match your mood to your style! Introducing the first line of custom printed backpacks with
exchangeable and customizable front "faces" from Boldface! A rugged backpack that allows
you to easily change the face to fit the whatever style you want to sport!


Dimensions: 17"h x 13"w x 6"d
Front flap of backpack easily swaps out in seconds. Pull one face off and put another face on while keeping the same backpack
Quality, rugged polyester canvas exterior is weatherproof, durable and built to last
Vibrant sublimation printing allows for your images to pop
Roomy main compartment, large zippered front pocket, and convenient side pockets matches your active lifestyle
Built-in laptop sleeve; fits most laptops up to 17"
Comfortable wide padded shoulder straps
Here's just a small selection of what's available
Personalizable Candles
Monday, August 22, 2016 @ 18:40:19 EDT by

FNolan

(186 reads)
New Arrival - Flame & Flameless Candles
Hundreds of unique designs to choose from,
many customizable to make them your own.
Here are just a few of what's available
Click HERE For A Huge Selection Of Candles
Some Of Zazzle's Newest Items
Saturday, August 20, 2016 @ 18:53:53 EDT by

FNolan

(328 reads)
Anonymous

writes

New Arrival ! OtterBox Cell phone Cases
Otterbox phone cases are well know for their protection and durability, now you can add your own designs or images to make it your own. You can also choose from a huge selection of pre-designed by professional designers. Many of those you can customize. Available for Samsug Galaxy and iPhone phones.

View Them HERE To Find The Perfect One For You, A Friend Or Loved One
Disney Frozen Birthday Items
Great Gift Idea

Custom Home Decor
And Accessories

Custome Gift Ideas

Mickey Turns 90

Customizable Easter Goodies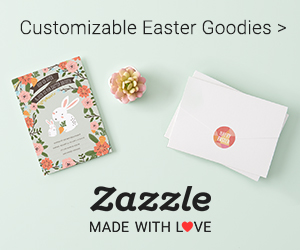 Add your own design
or image for that
personal touch