Labor Day Invitations and more
Create Your Own Tee

Save The Date Items

Baby Gift Ideas

Funny St. Patrick's Day Gift Items
2018 Graduation Items
Sunday, April 16, 2017 @ 18:57:09 EDT by

FNolan

(250 reads)
Is Your Student Graduating This Year ?

A huge selection of gifts and party supplies.

You can choose from apparel, electronics, invitations, cards, postage, decor and more.

Most are customizable with the graduates photo and name

Easter Is April 1st Shop Now
Saturday, March 11, 2017 @ 14:40:57 EST by

FNolan

(379 reads)
Easter Items
Easter is fast approaching ! April 1st is the day !
Clicking an image or title will open a new window/tab to the item on Zazzle.com for more info and purchase.
Many customizable to suit your preferences !


You can even add your own personal image or text on some !
Read More...
Customizable Easter Goodies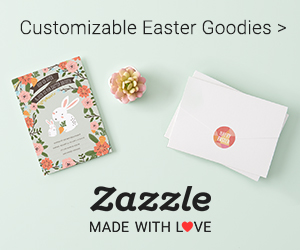 Add your own design
or image for that
personal touch
Disney Frozen Birthday Items
Great Gift Idea

Custom Home Decor
And Accessories

Custome Gift Ideas

Officially Lisenced BTS
Harry Potter, Marvel,
DC Comics,Disney and more